Pritz-systems Hammer-Gun and –Rifle

1988 a customer requested me to construe a hammer-gun. The customer has watched me working for a few times and was in possesion of seven Ferlacher hunting guns. He never knew which persons did the work on his guns and therefore he wanted a gun, which was construed exclusively by myself. At first I rejected the order becauce I wasn't fully convinced from the technic of the hammer-sidelock. I thought that there were some room for improvements. The customer often visited me in my workshop. After a half year I had an idea how the construction of a hammer-sidelock can be improved and how more security can be reached. I designed a sample , which functioned at the first go perfectly. After another half year I filed a patent application for my invention of the safety hammer- sidelock. 1991 a patent was granted with seven "under-claims" with the number 392841. I manufactured a gun for the customer in the caliber .22Hornet &6,5X57R. A customer wish was fulfilled and furthermore a new identity was formed in the area of hunting guns. The gun being an optimum connection of elegant , classical , but nevertheless new design and best handy workmanship , was very well received by my customers and at fairs.
1. In this gun, the key and the shaft are made of one piece. ( no visible toplever-screw any more!)
2. The bottom side of the case was closed. ( no lomp visible)
3. The safety-hammer-sidelock is anchored in the case.
4. The lock plate is made of one massive piece ; of which the sockets and the "Wiederlager" for the main-spring are made too Advantage: There are no bores through the lock plate. There are no tacks in the lock. The mainspring is freely re-binned and is Not hold through a tack. (a predetermined breaking Point less)
5. The "Abzugstange" and the
6. "Fangstange" are put onto the sockets.
7. "Abzugstangen" and "Fangstangenfeder"
8. Forged main-spring
9. The "Studel" is a plate, which is screwed , but has no cohering , but a supressing function.
10. The nut is through the lock plate and in the "Studel" "wiedergelagert"
11. The "slingshot"(Schleuderl) functions mechanically.
12. The hammer is put on the "Nusswelle" on a "Vierkant" and is fixated with a hammer-screw. The hammer-screw is through a safety screw secured against the untwisting when the wham takes place. Between the hammer and the nut, there is the lock plate.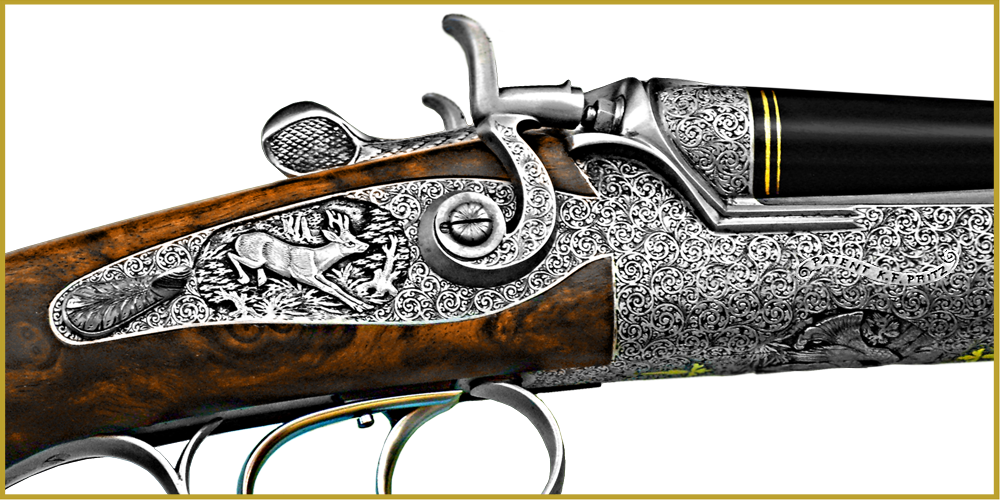 Functionality : when more information desired, ask Kurt Pritz
Security Features: when more information desired, ask Kurt Pritz
Nevertheless the handling of the hammer-sidelock is very easy: Stretching-Shooting!
The hammer-sidelock is through this construction secured against unintentional cock of the hammer. Even in tense state it is safe against unintentional triggering. The knock of the hammer can only be triggered through the activity of the trigger.
Pritz-systems hammer-gun for more success!